6/1/2014 - After 50 years in the automotive industry, Squire Tomasie has retired and sold his shop to well trained and experienced Porsche mechanic, Jason Williams.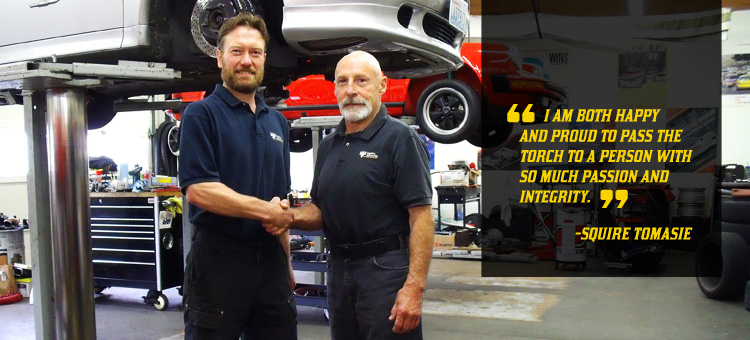 A Word From Jason Williams:
I am fortunate to come from a long line of mechanics. My Great, Great Grandfather opened the first Ford garage in the small town of Union Grove, Wisconsin in 1917. His son became the owner and in turn his son, my Grandfather, worked in the shop before joining the Army during the Korean War. As a boy, I grew up working with and repairing all manner of farm machinery but my fascination with airplanes drove me to become an FAA-licensed aircraft mechanic (Airframe and Power Plant). While in aviation, I worked on both reciprocating and turbine aircraft engines and installed/repaired advanced avionics such as Autopilot and GPS navigation systems. Following a chance visit to Seattle in 2000, I relocated to the Emerald City and was immediately hired by a vintage VW and Porsche shop in Ballard. Thus began my love affair with Porsche. I soon owned a'66 912 followed, in short order, by a '67 911. I've never looked back! Desiring to expand my Porsche experience, I joined Chris Powell at Chris's German Auto Service in Bellevue where I worked for 11 years. I am honored and proud to take ownership of Squire's Autowerke. I am also fortunate to have 20-year veteran of Squire's Autowerke, Tony Turchin, to help me out. I take my work seriously and I'm committed to continuing the strong legacy of exemplary automotive service at
Squire's Autowerke
.
"We Will Deliver The Excellence You Expect"
Servicing Porsche 356, 911 to 991, Cayman, and Boxster.
---
What We Do:
Free safety inspection
Free computer scans
Scheduled service and maintenance
Diagnoses and estimates
Pre-purchase inspection
Track inspections and preparations
Tuning
Computer diagnoses
Legal modifications
Custom fabricating
Paintless dent repair
Maintain your factory warranty
One day service when scheduled
All cars stored inside over night
Hand car wash
We are small and personable, talk to the man that actually works on your Porsche.
Call us at 425.641.3212 or email
jason@squiresautowerke.com
for an appointment. Or, just stop by to say hi.
---
Our Shop:
Squire's Autowerke
----------------------------------
1515 134th Ave NE
Bellevue, WA 98005
phone: 425.641.3212
jason@squiresautowerke.com
----------------------------------
Monday - Thursday
8:00 - 17:00
CLOSE for lunch: Noon - 1:00 p.m.
Please respect our lunch break.
Friday by appointment only
----------------------------------
Follow us on Instagram